READER'S PICK
BEST ANYWHERE-BUT-HERE ESCAPE HATCH
Gold Street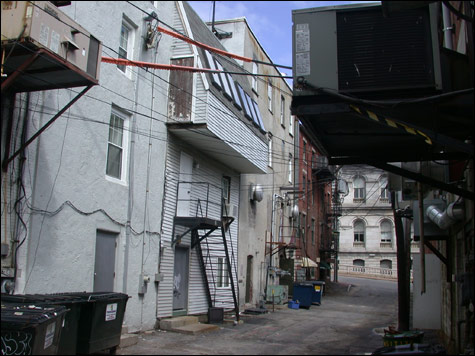 It would be easy to miss Gold Street, or think it an alley if it not for the bright blue street sign announcing its existence. It is an instantly transporting experience, but brief — it takes less than a minute to traverse. Surrounded by the white-noise throb of over several industrial-kitchen hoods along its roughly 200-foot stretch, Portland drops away. This is instead the gross underbelly of the early 20th century, the piled-up trash an excusable aftereffect of urban growth.
Gold Street is disgusting, but in a way that begs to be romanticized. It is a humming tangle of fire escapes and filth, a post-industrial wart left untouched in our tiny city for ages. It is one of the finest spots in the city. Its rescue from total extinction is its two small business, Bob's Barber Shop and Amore Styles. During one recent visit, we were joined by a visitor from the back door of one of Commercial Street's kitchens. She lit up, a dour-faced old woman in a droopy raincoat and massive white high-tops, pacing, glaring, breathing smoke. Along one massacred sidewalk lay a green oil drum, marked "Positive Energy." A single turd decorated the center of the street. Light sconces set at absentminded angles along the high brick walls would create an eerie glow, if they ever worked.
Gold Street is a carcass; discovering its charm is not dissimilar from finding a dead deer in the woods. Unexpected, disturbing, but ultimately intriguing. That Portland has forgotten it is most telling in the massive, obsolete satellite dish perched over its rooftops, forever receiving a defunct nothingness from the sky above.
Gold Street | between Silver and Pearl streets, one block back from Commercial Street