Superstars
Deer Tick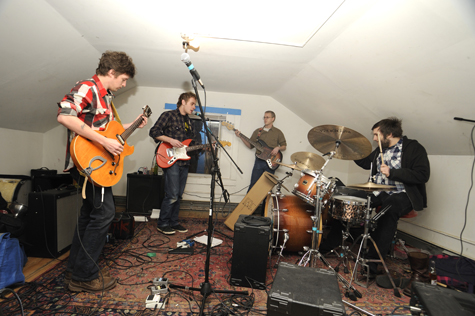 Five years and a couple hundred shows down the road, 24-year-old John J. McCauley III and his Deer Tick crew have come a long way — from White Electric to the main stage at Lollapalooza, in fact — a swift career trajectory that continues to garner new fans and tons of accolades, including a BMP hat trick for Local Superstars and Best Album and Song. "Easy" from '09's Born on Flag Day sparkled as a ramshackle jaunt through country, blues, and whiskey-flooded garage rock. McCauley's creaky, front porch vocals shine on Flag Day gems like "Little White Lies," "Smith Hill" (named for McCauley's old stomping grounds), and the Chuck Berry swagger of "Straight Into a Storm." Lasat year the band played South By Southwest (named "#1 Pick for SXSW '09" by Rolling Stone), Austin City Limits, and the Philly and Newport Folk fests. This summer Deer Tick will play sets at Lollapalooza and the Rock and Roll Hall of Fame, as well as another UK tour in the fall. It all starts July 17 at Jerky's Bar downtown.
McCauley still has the devil in his eyes on the third full-length installment, The Black Dirt Sessions (available now), delivering some achingly stark moments on piano, accompanied by the brothers Ryan (Christopher on bass, Dennis on drums) and new guitarist Ian O'Neil (formerly of NJ indie-punk band Titus Andronicus). "If you're runnin' away/I'm lookin' for you, and if you lost your way/I'm seein' you through," McCauley declares on the first single, "Twenty Miles." Heartbreakers "Hand In My Hand" and "Goodbye, Dear Friend" complement Black Dirt centerpiece "Mange," on which O'Neil steals the show with a searing solo. "Drown myself in a glass of whatever," McCauley offhandedly sneers on "Piece by Piece and Frame by Frame," while a new version of "Christ Jesus" (reworked from their debut War Elephant) is transformed into an unnerving, hellbent ballad.
We tracked down McCauley this week for a phone chat (initial email read: "Don't call before 3 pm, I'll probably still be sleeping"). He was kicking back in Murfreesboro, Tennessee, and broke some exclusive news on the next album (!) and more.
Do you feel any added pressure this time around as opposed to the weeks leading into Flag Day or Elephant? Not really. Actually, it feels like a big weight off your shoulders. And we get a little vacation before the next tour starts up, which is pretty nice.
Any new covers you're working on? Anything special planned for Jerky's?
I'm not sure yet, but I'm sure we'll have a few surprises.
I always thought your voice would suit a Dinosaur Jr cover.
Yeah, maybe we could do that. That's not a bad idea.
During the writing/recording process for "Easy," did you realize that you were onto something special? Did the song turn out exactly as you heard it in your head?
That song was written on piano, and the original version was grueling, man (laughing). It was really slow and not exciting when we played it live. When it was time to record, we knew it needed to be louder. The song needed more "rock and roll."
Can you recall one "holy shit"-type moment in particular thus far in your career?
Playing in front of 1000 people at Lupo's (April 2009) was pretty wild. Playing to a packed room in your hometown is a memorable experience.
Do you pay attention to the press, positive or negative?
We get press updates sent to us every week, so it's kinda hard to get away from. Sometimes it's tempting to see what critics are saying.
Ever felt compelled to react to negative press?
Well (long pause), let's just say that I've stood up for myself a few times (laughs). Yeah, let's just leave it at that.
What's next for Deer Tick following the tour?
We'll be recording our fourth album — in Rhode Island, which is a first for us. It will be completely different than anything we've done. We're still trying to find our sound. For the next one we're gonna incorporate some new tricks. It will be our first album with brass and horns.

Runners-up
2. The Low Anthem
3. B Dolan
4. Lightning Bolt
All Providence Categories